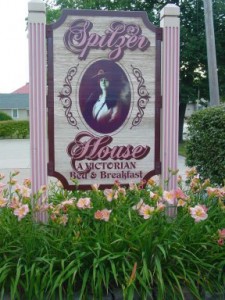 The Spitzer House is an 1890 Award Winning Victorian Bed and Breakfast. The Spitzer House boasts two elegant cherry staircases, stained glass windows and cherry and oak woodwork throughout. Filled with warm antiques, lacey linens and Victorian charm, we offer four cozy guestrooms all with private baths, a beautiful dining room, relaxing parlor and in season a splendid flower garden. Guestrooms include King or Queen bed, private bath with claw foot tub and shower. Our Honeymoon/Anniversary Suites are each uniquely equipped and may include whirlpool bath for two or in room fireplace, with chilled Champaign waiting in the room for your arrival.
The Spitzer House was built by a team of builders for General Ceilan Milo Spitzer. Ceilan and his cousin Adelbert were known throughout the country for organizing the first bond houses in the United States outside of New York. This German Renaissance home remained in the Spitzer family for seventy years and is a fine example of the Queen Anne Architecture with Stick-Style design. Each guest room is named after a member of the family. Located four blocks West of Historical Downtown Medina Square, Spitzer House is within walking distance of AI Root's Candle outlet, fine dining, tea room, pubs, spa and gift shops. State Routes 3, 18. 57 and US Route 42 all pass through the City of Medina. Experience the Beauty and Elegance of fine craftsmanship and style in this meticulously restored Victorian Home.
Ceilan Milo Spitzer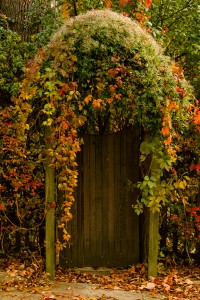 1849-1919
Ceilan Spitzer was the oldest son of Aaron Bovee and Laura Maria (Perkins) Spitzer. His great grandfather, Nathanial Perkins, before he was of age, was aid-de-camp to General George Washington. Mr. Spitzer's great great great great grandfather, Hendricks Cornelius Van Buren, was a soldier in the Indian War of 1663 and was an ancestor of President Martin Van Buren. Ceilan was educated in the schools of Medina and at Oberlin College.
Although Ceilan's father brought the family from New York to farm and pursue his love of horses, his son Ceilan, considered the family genius, entered multiple banking and business ventures in the area, pulling several of his kinsmen, including his father, into the banking and financial services industry.
In 1890 Ceilan Spitzer had the Spitzer House built in Medina Ohio, with a team of builders while he pursued expansion of his bond business in Boston Massachusetts. His return to town to view the new home made front page news of the Medina County Gazette, December 26, 1890. "C.M. Spitzer, the well known Boston banker, was several days in town this week looking at his new residence, which is nearing completion." Ceilan's fortune continued to rise as his business expanded. His home "Innisfail" which means Island of Destiny was built between 1899 and 1901 in Toledo, Ohio where the estate encompassed an entire city block. His parents were given a life-long lease to the property in Medina in 1891 and the Spitzer family inhabited the house for the following 70 years.
In 1893 C.M. Spitzer and his cousin A.L. Spitzer started construction of Toledo's first steel "skyscraper" the Spitzer Building, completed in 1895. In 1905 the Nicholas Building was completed, named in honor of his grandfather.
In January 1900 Governor George H. Nash appointed Ceilan Spitzer Quartermaster General of Ohio with the rank of Brigadier General.
C.M. and A.L. Spitzer were known throughout the country as organizers of the first bond houses in the United States outside of New York and as the father of the municipal bond business. Ceilan M. Spitzer was a friend of President McKinley and was recognized as a dominate force in the financial circles of the State.
Aaron Bovee Spitzer
1823-1892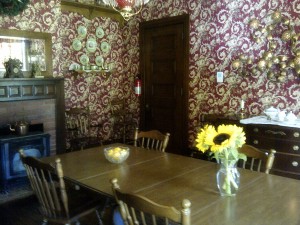 Aaron was born in Schenectady, N.Y October 8, 1823. We was the second son of Nicholas and Nancy Bovee Spitzer. The Spitzer family came to Medina county, Ohio in 1836. Aaron was characterized in the Medina County Gazette as being …"known throughout the county as one of our most prosperous and intelligent farmers, one who
has always been active and interested in public affairs, always giving aid to that which tended to the advancement and improvement of the common good. " He was also engaged in the banking business for several years with his son Ceilan Milo Spitzer and Ludwig Wideman. He was a lover of horses and had some very fine specimens on his stock farm near Medina.
He married Laura Perkins, daughter of Joseph and Harriet (Draper) Perkins in 1846 and had one son Ceilan M. Spitzer. He was married the second time to Anna M. Collins in 1862 and by this marriage had three sons, Frank P., Garrett E. and Sidney H. Spitzer. Aaron Spitzer retired from active business in 1886 and resided in the West Liberty Street Medina residence until his death.
Anna Collins Spitzer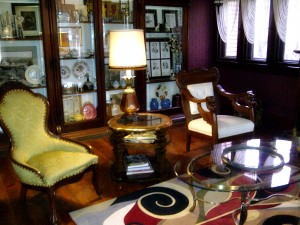 1841-1923
Anna Marie Collins was born in Greenwhich, Washington County, New York, January 7, 1841. She came to Medina County at the age of 18 years in 1859. Anna married Aaron Bovee Spitzer November 20, 1862. Anna was Aaron's second wife and to this union had three sons. Her step son, Ceilan Milo Spitzer granted Aaron Bovee and Anna Spitzer a certain life lease to the West Liberty Street property dated June 17, 1891
Evalyn Spitzer Woods

1880-1960
Evalyn was the daughter of Ruth Arestene and Amherst T. Spitzer. She had one sister Cornelia and one brother, Elbert B. Spitzer. The West Liberty Street House passed to Evalyn and her husband in 1923 and she resided at the address for the next 37 years.
In 1892 Evalyn's father Amherst, and her uncles Ceilan M. and A.L. Spitzer, along with A.I Root, C.J Warner and other Medina business and professional men founded the First Savings Deposit Bank of Medina County. It was the first bank in the county to pay interest on deposits, and the first bank to provide safe deposit facilities. Amherst was the first President of the Savings Deposit Bank, Elbert B. Spitzer became President in 1924.
Evalyn graduated from Medina schools in 1899. She married attorney Frank W. Woods and had three daughters, Ruth, Helen and Alice. Frank W. Woods was a prominent Medina attorney, an Ohio State Legislature and leader in Medina civic affairs. His death occurred June 1927.